Start off your Honeymoon the Right Way: With a Sensual Massage

Weddings are stressful, so make sure that your honeymoon will be totally relaxing. One of the best ways to do that is with a massage – but who wants to see their main squeeze groped by another person. It's your honeymoon – you should be doing the groping! A sensual massage is the perfect way to get in the mood on your wedding night or at any point during the honeymoon, and taking a few minutes to learn the finer points of massage can show your new spouse that you really care.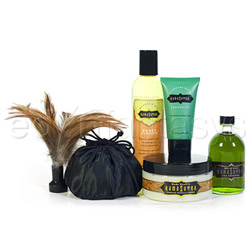 First, with any massage, be responsive to the person you are massaging. Every person is a bit different and although some may love a light touch, others may be looking for that deep, muscle-moving rub down. If you don't already know what your lover likes, take this opportunity to find out. Often how your partner likes to be touched during a massage can clue you in on how he or she likes to be touched during sex. So, take note as to what is causing those moans of pleasure.
Start your massage by getting naked. It will be much easier to massage your lover if he or she isn't wearing clothing, but believe me; you'll want to be naked as well. The whole point of your giving the massage is for it to be super-sexy. If you're a bride giving your husband a massage, you lightly brush against his back with your nipples, and you should definitely get approval, even if your massage is not that great. If you're a groom giving your wife a massage, letting her feel how turned on you are is a great way to take the massage to the next level. In any case, getting naked will make your massage much more intimate.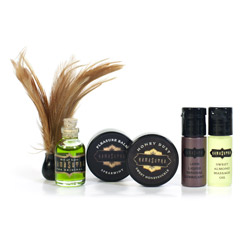 Have your honey lie on the bed facedown to start the massage. Use a firm touch so that you don't tickle him or her, and start at the neck and shoulders where much of our tension is stored. Move down the back, and don't forget to also massage the arms. In addition to rubbing the muscles, you can also use your fingertips in a fun technique that feels great. Simply pretend you're playing the piano on your lover's back, and use your fingers to "walk" up and down his or her spine.
Move on to massaging the legs and don't be afraid of your spouse's behind! This area of the body feels great when massaged and this can be very erotic. After you've given him or her a good massage, take it to the next level to make your time together more sensual. Here are some great ideas for stepping up the massage:
Add ice to the mixture. The sensation of the warmth from your hands mixed with the chill of the ice is an extreme turn on, especially when the ice is used in sensitive areas. Use the ice to trace on his or her back, moving it quickly from spot to spot, and keep some extra towels on hand for any dampness.
If you find spots where he or she loves to be rubbed, chances are that your sweetheart will also like to be kissed in that location. There's only one way to find out, right?
Plan ahead by buying some massage oils to use during the rub down. You can find massage oils that are edible and even some that heat as you use them. In addition, look for personal massage toys that can help you give your new spouse that relaxing feeling.
Play some sexy, calming music while you're giving your massage. Your hotel should be able to provide you with a CD player for your honeymoon suite, or you can look for the music channels on television to add background noise, but just make sure that it will be commercial free. We are all very connected to our five senses, including hearing, so a bit of mood music can take your massage to the next level.
If your hotel suite has a large bathtub or private hot tub, try giving your massage there. Of course, don't ask your spouse to lie facedown! However, sitting behind him or her can work well and the warm water is a super sexy feeling, especially if you're not wearing a bathing suit.

Whenever you've giving your lover a massage on your honeymoon, remember that it should be sensual and lead to the next level without feeling forced or rushed. It is perfectly okay to give a massage without having sex afterward! If you really don't feel comfortable giving or receiving a massage from your new spouse, have a couple's massage privately in your suite and then continue with the sensual feeling after they leave. Most resorts have these options available, and this can be a great idea for couples who both need a little TLC.
Here are some massage kits we like!